Gluten-free consumers cannot live on sliced bread alone, or at least, why would they want to? In an industry that far too often compromises on authenticity, check out our product line – unmatched for variety, taste and performance.

Superior 1 for 1 Gluten Free


Baking Flour

Recreate your favourite recipes with our 1 for 1 Baking Flour and experience the best gluten free baking results you'll ever have. Simply replace the regular flour in your recipe with the equivalent amount of our flour for pancakes, waffles, muffins, scones, cookies, cakes, brownies, pies, pasta, tortillas and more. This will be the only gluten free, allergen-friendly baking flour you'll ever need.
This baking flour is not designed for yeasted breads.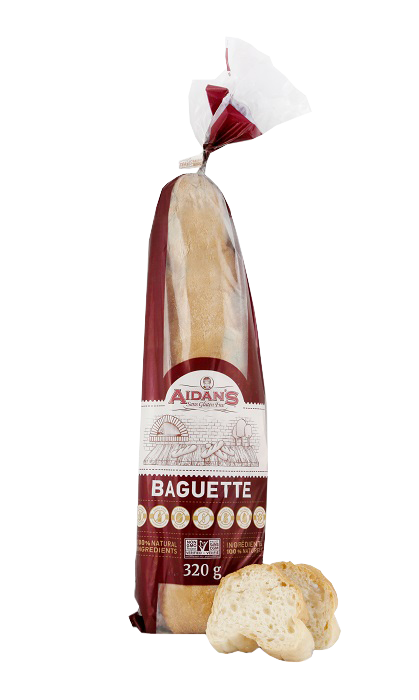 No product quite captures the anticipation of pure satisfaction than an artisan style baguette.

| | | |
| --- | --- | --- |
| | Loaf & Red Lentil & Blue Corn Brown Loaf | |
Health and convenience are paramount to parent's busy lifestyles and our loaves deliver on both, with a texture and flavour reminiscent of real bread. Soft texture with a balanced flavour, these products can be part of breakfast, lunch, or dinner.

| | | |
| --- | --- | --- |
| | Pitas & Red Lentil & Blue Corn Brown Pitas | |
Our pitas were designed with utility in mind. They make a great flatbread for pizza, enjoy opened for sandwiches, closed for a wrap, and you can even stuff them to make burritos.
Get-togethers are by nature inclusive, but for people with dietary restrictions, they can often feel excluded at mealtime, especially children. Whether a barbeque or a birthday, our buns will fit right in for burgers, hot dogs, sandwiches and more.

Light, airy, and flavourful, our English Muffins and Bagels are a great way to either start your day, or as a snack to get you through until mealtime. On weekends, try them for breakfast sandwiches or a more elaborate breakfast like Eggs Benedict.